We are a local and independent insurance agency committed to providing insurance coverage and trusted insurance advice to the citizens of the New Orleans Area.
We work for you, not any one specific insurance company.
We have access to multiple quality insurance providers to ensure you get the proper coverage at the best price.
We recognize the importance of cultivating relationships with clients beyond simple business transactions.
We believe that our clients should know what they are buying and we encourage them to ask questions.
We are successful because we value each client as an individual, and strive to build our reputation on that principle.
We value honesty, respect, and courtesy before profit.
When you come to us, we will educate you on your insurance needs, not just sell you a policy. We will lay out the pros and cons of each insurance company's options, and from this assessment, recommend the best possible coverage available. In the end, once you see the knowledge, dedication and personal attention that we offer, you will want to hire us for all of your insurance needs
Why do business with Garcia Insurance Services?
Unlike a captive, or direct insurance company who only offers their own proprietary products, our agency is 100% independent of any one company. Many insurance consumers don't fully understand just how important that really is.
When it comes to something as important as insurance, it's imperative that you work with an agency who has an in-depth knowledge of multiple insurance products, companies, and guidelines — not just one.
At the end of the day, what separates one agent from another, is their ability to proactively service their policy holders, and their knowledge of the insurance industry, products, and different situations that may present themselves to their clients.
Independent Agent Vs. The Rest
Here is a quick comparison of the differences between an independent agency like us, and the various other types of companies that are out there: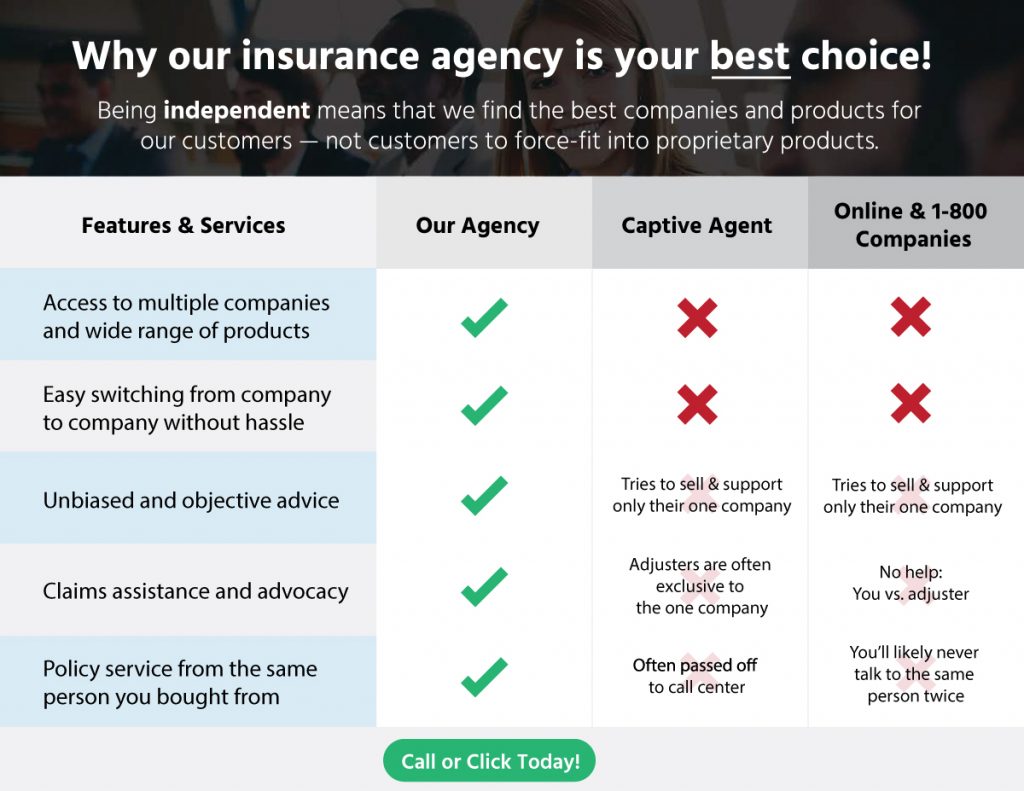 If you'd like to get started with a complimentary quote and/or policy review, we'd be happy to help you any way we can. Simply complete the fields below to get started online in a matter of seconds.
We appreciate the opportunity to help you, and look forward to servicing your insurance needs! Feel free to call us directly if you have more detailed questions.